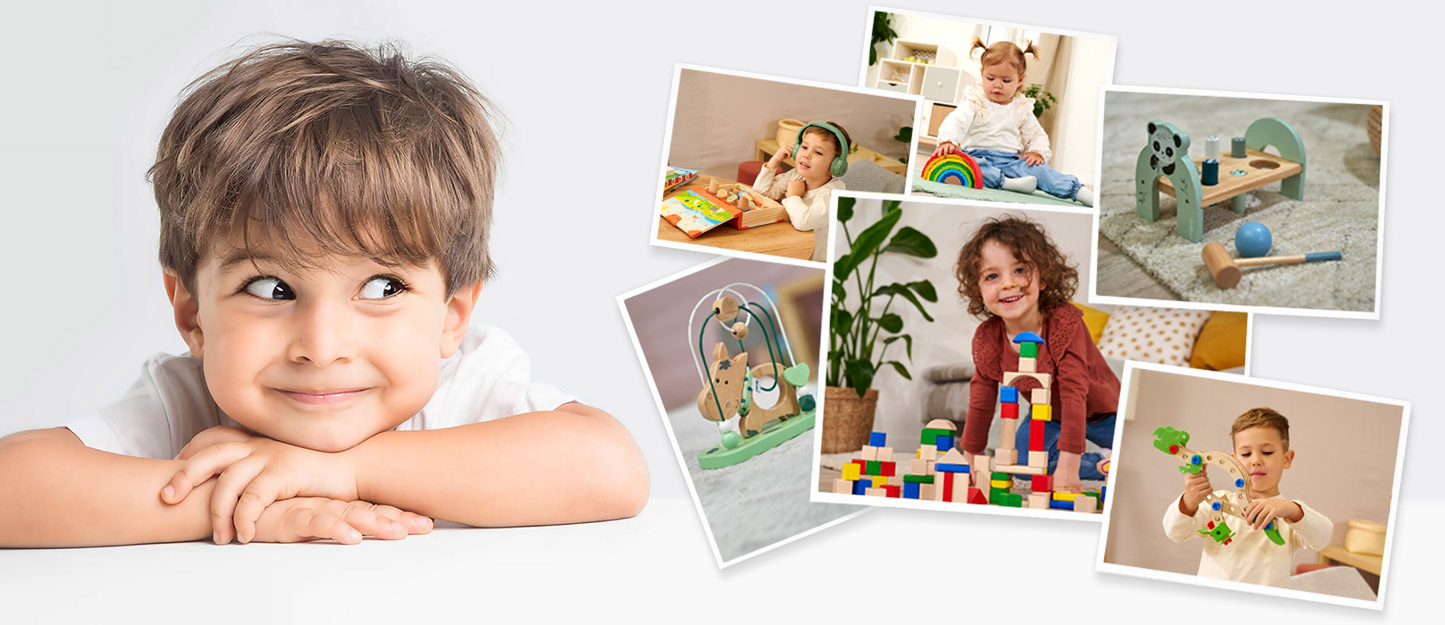 Treasured wooden toys!
For more than 70 years, high quality wooden toys from Eichhorn, such as the wooden railway, shops, dolls' houses, jigsaw puzzles and marble runs, have been some of the most treasured and best loved toys in every well equipped playroom. And with good reason. Because Eichhorn has a tradition of guaranteed premium quality toys made from high quality wood and a constant stream of fresh, new play ideas that entertain and stimulate children.
Brand philosophy
Playing Fun and Safety
Children's requirements are at the heart of product development. Our wooden toys entertain children, provide long-lasting play enjoyment and promote the fine motor skills, dexterity, creativity and imagination. In order to ensure the safety of our products, we manufacture a major part of our product range in our own production plants. In this way, we can make sure that all relevant safety standards in the fields of toy safety, quality assurance as well as environmental and social law are met. All wooden toys are tested regularly by independent testing institutes.
Because the environment is important to us, we have been producing the Constructor line completely climate-neutral since 2022.
Show more
Show less
History
The Eichhorn Story
Hermann Eichhorn founds the company in his home town of Egglham in Lower Bavaria. The first products are wooden cube puzzles. Soon after, Eichhorn invents the first wooden railway.
Eichhorn becomes the market leader in the wooden railway segment. At peak times, the company employs up to 350 workers.
The company has financial difficulties. Hermann Eichhorn files for bankruptcy.
The SIMBA DICKIE GROUP takes over the company.
Production is moved to the small town of Netvořice in the Czech Republic, around 30 kilometres south of Prague. Many wooden products are still crafted by hand.
Heros is PEFC tested for the first time and receives the PEFC certificate for using wood from ecologically, economically and socially sustainable forests.
Eichhorn extends its product range to include garden toys.
Eichhorn alone annually sells more than 400,000 trains, 250,000 wooden blocks packages and 1.7 million puzzles. Recently, children's furniture and "Eichhorn Outdoor" products have been launched.
Eichhorn changes from the European PEFC certification to the internationally recognized FSC® 100% certification (license code FSC® C005308)
The new "Eichhorn The Collection" line is introduced.
HEROS chain building blocks are awarded the Toy Award in the Baby & Infant category.
Two become one! Heros will be available under the traditional brand name of Eichhorn in the future. In other words, a complete range of wooden toys is formed from a single vendor.
Show more
Show less
Production
Quality in wood
A large part of the Eichhorn product range is "Made in Germany" and produced in Lam, situated in the Bavarian Forest. All the products are manufactured there using high-quality beech wood from sustainable forestry sources. Moreover, many products are FSC 100% certified. The top-class wood gives the products an extraordinary quality and wonderful feel. Further production sites are located as well as in Bulgaria and China.
Awards
Eichhorn reviews
Awarded the "good conscience" test seal by German Focus and Focus Money magazines in 2014.